The blender market dominator, Vitamix has come up with a blender that is the best example of raw power. You guessed it right, it is the Vitamix Professional Series 750 Blender. This blender features the most powerful motor built by vitamix which has a horse power rating of 2.2. The motor, besides being powerful operates at a very low noise, approximately 40% less that 2HP motor of 5200 series. It is one of the most versatile and powerful blenders in the market and without any doubt it is the best vitamix machine. We shall further review this dynamic Professional Series 750 blender.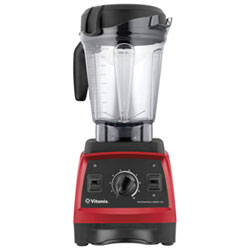 Vitamix Professional 750 a premium model. It features flatter as well as broader blades which dramatically improves the efficiency as compared to previous models of vitamix blenders. One might feel that a professional model means there is a compromise with regards of aesthetics. But, it is not true because it has an amazing and striking design. The new copper base which comes at an additional cost of $100 is soothing to the eyes.
It has been designed in such a manner that it can be used in homes as well as by professional chefs. It has a broad 64-ounce container. The model is preloaded with five presets. So, it can automatically make smoothies, frozen desserts, purees and hot soups. One amazing feature is the auto clean feature which is the fifth preset. The user just has to load some detergent and water and the rest will be done by the blender itself. Except the cost, there is no visible drawback. One can easily say that it is the best vitamix machine.
It comes with a seven-year manufacturer's warranty. Vitamix Professional Series 750 is highly recommended for those who have larger budget and like to go for the best.